UNS JOURNAL OF LANGUAGE STUDIES VOLUME 1 NO 1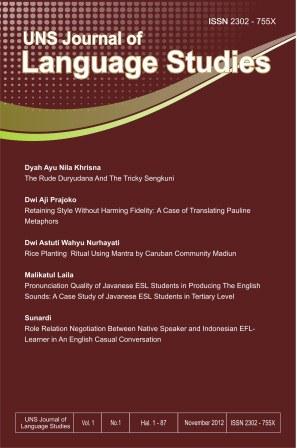 UNS JOURNAL OF LANGUAGE STUDIES VOL 1 NO 1
The UNS Journal of Language Studies was firstly published on November 2012. Then, it was changed into Prasasti Journal of Linguistics on March 2016.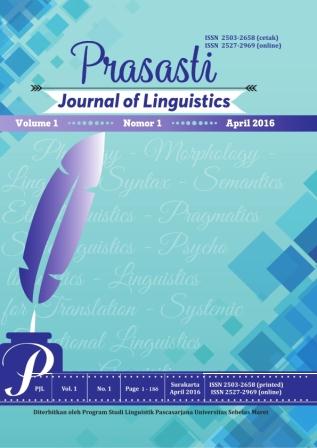 Cover baru "PRASASTI: Journal of Linguistics"
SUBMISSION PREPARATION CHECKLIST
As part of the submission process, authors are required to check off their submission's compliance with all of the following items, and submissions may be returned to authors that do not adhere to these guidelines.
The submission has not been previously published, nor is it before another journal for consideration (or an explanation has been provided in Comments to the Editor).
The submission file is in OpenOffice, Microsoft Word, RTF, or WordPerfect document file format.Articles should include: Title, Contributors, afiliation, email; (a) Abstract, (b) Introduction, (c) Theory and methods, (d) Finding and Discussion, (e) Conclusion, (f) References.Abstract should be prepared in English, 250 words at most  and single space. It includes the aim of the study, the methods of the study, and principal conclusions. Words or short-phrases are selected for keywords to assisst indexers in cross-indexing the article.
Where available, URLs for the references have been provided.
The text is double-spaced on A4 paper; uses a Times New Roman 12-point font; employs italics, rather than underlining (except with URL addresses); and all illustrations, figures, and tables are placed within the text at the appropriate points, rather than at the end.Tables should be typed in 9-10 font size, given number and title of table is written above the table
Articles should be original. Articles is written in either English or Bahasa Indonesia. Example look layout can downloaded in here [Template PJL].
Only sources which are quoted are written in the bibliography.References should be in alphabetical and chronological order according to the APA 6th edition.
Registration and login are required to submit items online and to check the status of current submissions jurnal.uns.ac.id/pjl