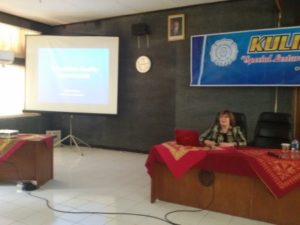 Program Studi Doktor Linguistik Pascasarjasana Universitas Sebelas Maret, Surakarta mengadakan Kuliah Pakar (Special Lecture) dengan menghadirkan pakar "Translation Quality Assurance" Prof. Dr. Dr. h.c. Juliane House pada hari Kamis, 17 November 2016 di Auditorium UPT Bahasa UNS.
Prof. Juliane House adalah guru besar emiritus di Universitas Hamburg, Jerman dan Direktur program Ph.D. bidang Linguistics di Helenic American University.
Dalam kuliah yang dimulai tepat pukul 08.00 WIB ini, Prof. Juliane House menampilkan 3 materi antara lain:
Translation Quality Assessment: Past and Present. Materi ini memaparkan perkembangan dan perbandingan cara evaluasi kualitas terjemahan.
Analysis and comparison of text for translation. Materi ini memberikan contoh analisis teks dengan pendekatan Sistemic Functional Linguistics.
Look after your smoothie. Materi ini memberikan contoh analisis kualitas terjemahan teks iklan bahasa Inggris dan Jerman dengan model yang diberikan.
Kepala Program Studi Doktor Linguistik Pascasarjana UNS Prof. Dr. Djatmika, M.A. menyampaikan ucapan terima kasih atas kesedian dan kehadiran Prof. Juliane House dalam kuliah ini. Beliau juga berharap kuliah pakar ini dapat memberikan wacana bagi mahasiwa dan peserta dalam mengevaluasi karya terjemahan.
Peserta tampak antusias dan aktif mengikuti kegiatan hingga selesai. Beragam pertanyaan diajukan para peserta kuliah umum. Hal yang umum ditanya mulai dari perbandingan iklan, pemilihan terjemahan, aplikasi model yang diterangkan Prof. Juliane, hingga penerjemahan puisi, dan prosedur evaluasi. Semua pertanyaan dijawab dengan gamblang oleh Prof. Juliane. Peserta yang aktif bertanya pun tidak hanya mahasiswa namun dosen juga ikut berpartisipasi dalam diskusi yang hangat tersebut.
Kuliah pakar ini dihadiri 75 mahasiswa dari dalam dan luar UNS baik dari program S1, S2, S3, dan juga diikuti dosen dari dalam dan luar UNS. Kegiatan ini juga dihadiri dosen FIB UNS seperti Seperti ibu Dra. Diah Kristina, M.A., Ph.D. Agus D. Priyanto, M.CALL., dll. Bahkan dari perguruan tinggi lain, seperti Dr. Sugeng Haryanto dari Polinema Malang.